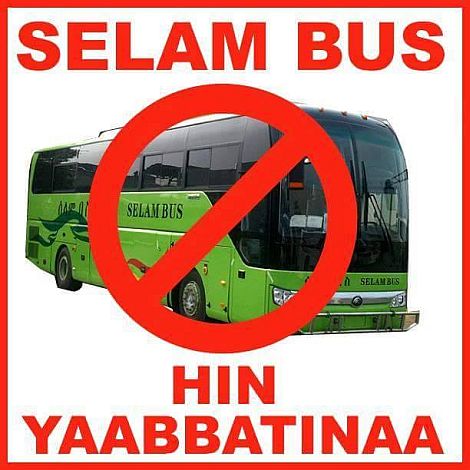 Expanding the Oromo Protests to hit, as the protesters have put it, the Ethiopian ruling party's (EPRDF's, and specifically, its TPLF leadership) economic powerhouses that finance, what they have called, the repression in Oromia, protesters have called for a boycott of Selam Bus, which is owned by the business wing of TPLF. Such an economic boycott can only work when a large number of people are actively engaged in the boycott; for this reason, the protesters have got on social media and other media outlets voicing their call for the boycott.
Selam Bus operates one of the luxurious long-distance bus services in Ethiopia. Many customers, according to an online research of the company, testify that. However, several customers have also questioned the safety record of Selam Bus. An observer noted that Selam Bus was known for its record of accidents; however, because of its affiliation with the ruling party, Selam Bus has never been held responsible for liabilities (for insurance or criminal) in the accidents that have thus far involved several of its Chinese-built fleet. The company's highly-skilled Public-Relations (PR) machinery usually takes on airwaves on media, suspected widely to be affiliated with the regime (such as Sheger FM), to deny any wrongdoing and to simply blame the drivers of the other vehicles (during the accidents) as culprits (listen a segment of such a case below from Sheger FM). Though Selam Bus has a luxurious fleet; its safety records have always been its weakness.
Over the last years, there have been several news reports of accidents involving Selam Bus. For instance, in March 2014, in Hintalo, Tigray, 16 passengers were killed in a Selam Bus accident (see photos from the scene below). In another tragic story in February 2014, a Selam Bus got into an accident near Sululta while carrying 25 students of Gondar University – who were returning home from a field trip; there were no survivors (see photos from the scene below). In both of these cases, the company had denied any wrongdoing. How these unaddressed safety records come to light and bring an intervention by the government's transportation safety authority as the company faces the Oromo Protests' boycott remains to be seen.
LISTEN: The PR machinery of Selam Bus responds to criticisms of frequent accidents (Sheger FM):